Weight loss fruits list: List of fruits for weight loss and glowing skin
Are you looking for a healthy weight loss diet? Including a weight loss fruits list in your daily diet menu ensures balanced eating and a healthy weight.
Nowadays, everyone is living on a tight working schedule, which further affects your body and skin.
Many of us might also suffer returning acne, dullness, dark circles. The main reason holding behind it is unhealthy eating habits and lifestyle.
How to get rid of it? Can we even reduce it?
Yes!! What we eat makes the body. The kind of fuel you are providing to your body decides the outcomes.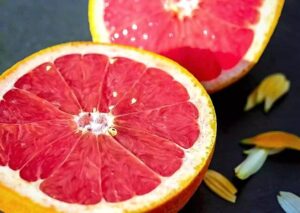 Secondly, you must contribute some time to a healthy & active lifestyle.
Without workouts, your body functions become weak due to a less active lifestyle. A person should exercise at least every 2-3 days to ensure better health.
What Fruits are best for Weight loss
When it comes to losing weight, there is no one solid plan to follow. But the base component is what you eat must serve nutrients more than mere calories.
Looking for a perfect fruit snack for a weight loss diet? There are a bunch of fruits rich in fiber, vitamins, minerals.
However, many of them could be high in sugar content, that you should avoid promoting healthy weight loss. The reason being such food items can easily trigger triglyceride levels, high cholesterol, & heart problems.
Wait!! There is no need to avoid fruits altogether but to include some more healthy ones to control your sugar intake. Here is a fruit list for weight loss that also protects your skin and helps them repair faster.
Consuming fruits is a healthy way to lose weight. So let's see the fruit list to reduce weight:
1.Grapefruits
According to researchers, grapefruits are one of the fat burners. It contains a higher level of primary nutrients.
Citrus fruits are one of the best fruits for weight loss. They are full of vitamin C that promotes fat loss, maintaining a healthy BMI.
Moreover, It increases HDL cholesterol, which is good for health & decreases appetite that prevents overeating. Besides vitamin C, grapefruits are rich in lycopene, potassium, fiber, & choline.
2.Lemon
Lemon is one of the most versatile weight loss fruits. This sour citrus fruit provides thiamin, calcium, magnesium, copper, folate, and pantothenic.
Plus, it can support bone health, increase iron absorption, boost immunity, improves heart and skin health. Furthermore, it prevents or can also dissolve kidney stones.
3.Oranges
Like any other citrus fruit, oranges are also helpful in weight loss. This citrus fruit ensures weight loss and many health benefits like promoting heart health, skin-related issues.
Although fruit juice is healthy, having fruit slices provide you with lots of fiber content that promotes digestion. Also, it promotes a feeling of fullness and leads to weight loss.
Therefore one should prefer whole fruits rather than fruit juice to rejuvenate gut health.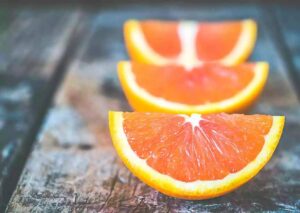 4.Kiwi
Kiwi is a perfect weight-loss fruit. It also provides several health benefits that include improving cholesterol, maintaining blood pressure and blood sugar level.
Moreover, it is considered a good source of vitamin C & E, folate, and fiber, which boost your gut health and metabolism.
Kiwi is best to serve you all of its health benefits when served raw. However, it is no harm to have it juiced.
This fruit is also remedial for skin health as they are full of water and nutrients, which removes waste and nourishes the body.
5.Cucumber
This summer fruit is full of water and fibers that strengthen metabolism and promote weight loss.
Since it is satiating, it prevents you from overeating and doesn't add calories to your snacks.
Moreover, this green fruit provides nourishment, which is good for skin nourishment.
6.Watermelon
Watermelon contains lots of water and fiber contents that make it a prominent weight-loss fruit. Consuming fruits rich in water helps to shed weight.
Also, it contains potassium, vitamin C, antioxidants like beta carotene and lycopene. Although you should keep limiting their intake as they have a high GI (glycemic index).
It also contains a healthy dose of amino acids and antioxidants that removes unwanted invaders and prevents several health issues.
Besides weight loss, it also helps maintain adequate hydration, reduces inflammation, and improves heart rate.
7.Pomegranate
Pomegranate could serve as a fat burner along with plenty of health benefits. It can potentially help you fight against inflammation, sort of cancer, high blood pressure, and cholesterol.
It is a good source of antioxidants, potassium, flavonoids, vitamin C, B6, & K, phosphorous, folate, and polyphenols. It could also help you with hemorrhage issues, obesity, infection, and acidity.
8.Apples
The large variety of this fruit contains a varying amount of sugar levels. A medium-sized Granny smith apple has a desirable amount of sugar content.
However, all kinds of apples serve you best to keep you healthy. They aid digestion and are full of fibers.
Apples could serve as better snacks for your healthy meal plans. Apples are so filling and provide health perks when eaten raw.
Eating raw apples reduces hunger and controls your appetite. Also, it prevents you from further eating resulting in weight loss.
9.Peaches
While being deceptively sweet fruits, peaches are low in natural sugar content. Also, peaches are moderate sources of vitamin C & A.
You should avoid canned peaches for highly added sugar syrups. Although it could not only spike your sugar level, it increases the number of unhealthy calories.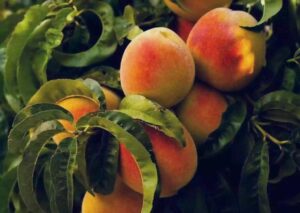 10.Berries
These tiny and astonishingly sweet berries are low in sugar and can serve you with many health benefits.
Eating berries reduce the risk of cholesterol level, high blood pressure, and inflammation problems, which are also indications of obesity.
Along with low sugar, they are rich in antioxidants that could preferably provide you healthy benefits than just weight loss. Having them raw or blended, both could serve you the ingredients it has.
Fruits list to avoid for weight loss
Losing weight loss is not a one-day goal to obtain. It needs patients & discipline that includes regular physical activities and healthy eating.
Protein & fiber-rich food are always recommended in your diet to lose weight. Food that contains high protein & fiber content satiates hunger & prevents overeating.
However, it's helpful to eat low-fat dairy products, whole grains, nuts seeds, & healthy fresh fruits. But to ensure faster weight loss results, you should avoid or reduce some of their quantity.
Some fruits could hinder faster weight loss as they're high in sugar & calorie contents. Here is a list of fruits to avoid for quick weight loss.
1.Avocados
Avocados are one high-calorie fruit that you can avoid if looking for faster weight loss results.
Although avocado is a good source of healthy fats, it could inevitably increase the number of calories if excessively included in the diet.
However, you can include avocados in moderation instead of removing them from your weight loss diet plan.
Despite being rich in calories, they provide several healthy nutrients for the body. Thus, involve them in your meal plans but not as anytime fruit.
2.Grapes
Grapes are sweet and fat-containing fruit. Its regular intake may cause weight gain & could also affect blood sugar levels.
For a strict weight loss diet, you could remove grapes.
3.Mango
Mango & pineapple may have some high-calorie content in them. These tropical fruits can restrict faster outcomes of weight loss.
Also, they are excessively sweet, which could be avoided by your strict weight-loss diets.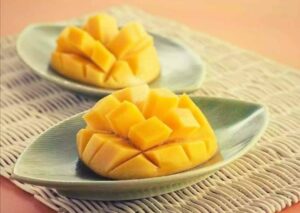 4.Banana
Although the banana is very healthy for your muscles & overall health, you should not include its excessive amount.
Bananas are both high in calories as well as natural sugars, fructose. Regular consumption of 2-3 bananas could increase your weight rather than decreasing due to muscle gain.
However, it is a healthy snack. While on a quick weight loss meal plan, you should have it in moderation.
5.Dry fruits
Some fry fruits like raisins, prunes have high calories as most of their water is removed.
Infect, raisins have more calories than grapes that you can avoid while on a strict weight loss diet. However, it is beneficial to have them in limited quantities.
However, all these fruits are healthy and not as harmful to health as to exclude them altogether.
If you have any allergic symptoms to any fruit, you must consult doctors or health consultants.
Furthermore, most of the fruits contain natural sweet content that could slow down your weight loss process.
It's better to practice portion control to ensure what you are eating would help you achieve your goals.
Fruits are a crucial part of a healthy weight loss diet and add delicious flavor to our diet.
Remember that juices lack most of the fiber content. And, fiber is better for healthy digestion and to satiate hunger for a long.
Additionally, they could have added sugar present in it, which could spike your blood sugar.
Since mere healthful eating does not improve our health, we should also practice a healthy lifestyle comprising regular exercise or physical activity.