Health benefits to walking | How walking influences your health?
Staying fit and active takes time, courage, discipline, dedication. However, there is a simple way to do so.
Even if you don't want to hit the gym or practice a long workout session, there are several health benefits to walking.
Walking is beneficial for your health even if you have a health problem like diabetes, blood pressure, heart disease.
Health Benefits of Walking
Health benefits to walking are enormous, including weight loss, healthy blood cholesterol & blood pressure levels, increased brain functionality, & overall health.
Everyone has different scales for fitness. It is not compulsory to exercise heavily to become a healthy person.
Besides, what you need are some movements. Walking is a great practice that involves whole-body movement.
Here are we going to see the top 10 health benefits of walking: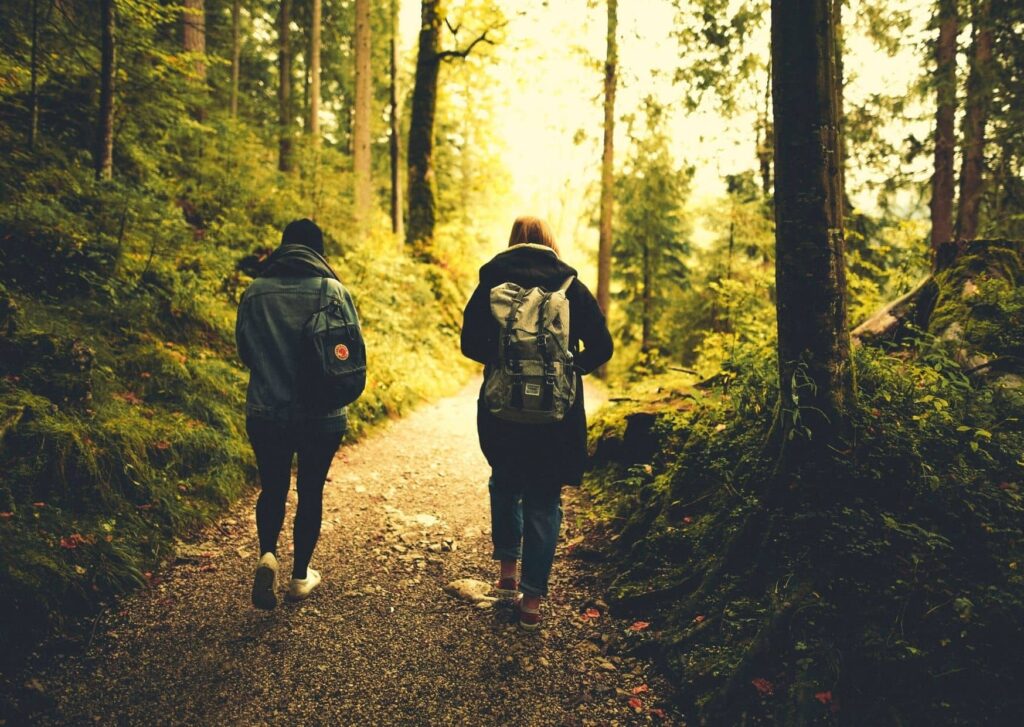 I) Burn Calories
Walking after a meal helps you burn calories as the calories get continuously used by the muscles.
But prevent brisk walking after eating. It is healthy to practice brisk walking in the morning or at night before sleep.
Besides, 30 minutes of brisk walking can help you burn 100-300 calories. However, you can include some simple activities during the walk to level up your fitness.
Walk including resistance weight, lunges, upper body movements will help add more health benefits to walking.
II) Proper Blood Circulation
Blood circulation is vital for our health. This process helps spread nutrition and also detoxifies the whole system.
It also increases your heart rate, which strengthens the heart functions and maintains healthy blood pressure.
Different walking forms like brisk walking or an amble also help increase lung volume. Moreover, they are some healthy ways to improve your heart health.
III) Strengthen Legs
Walking every day strengthens your leg muscles. However, it is an overall body exercise, but leg calves, hamstrings, and joints get extra fitness benefits from walking.
Cardiovascular exercises like cycling, walking, or running reduces fat stored in your body. Often fat components are deposit in your legs that swell them up.
Regular walking habit increases muscle mass that prevents fat deposition and also helps reduce fat deposition in the legs.
IV) Help Weight Loss
Brisk walking is sure a healthy option to lose weight. Besides, ensure not to walk fast just after a meal.
It impacts the gastric system and may lead to acidity, inflammation. However, walking at a steady pace after a meal promotes weight loss.
The reason being, walking after eating helps consume the calories obtained through eating. Thus, decreases the number of calories for your body.
All you need is to increase the calorie expend than calorie intake through different walking styles to promote weight loss.
V) Rescue Joint Pain
Walking for small intervals regenerates the cartilage present in the joints.
Moreover, to reduce joint pain, walking or yoga is even better than other cardio exercises.
Since walking reduces fats and increases muscles, it reduces pressure on your knees or ankle joints due to weight.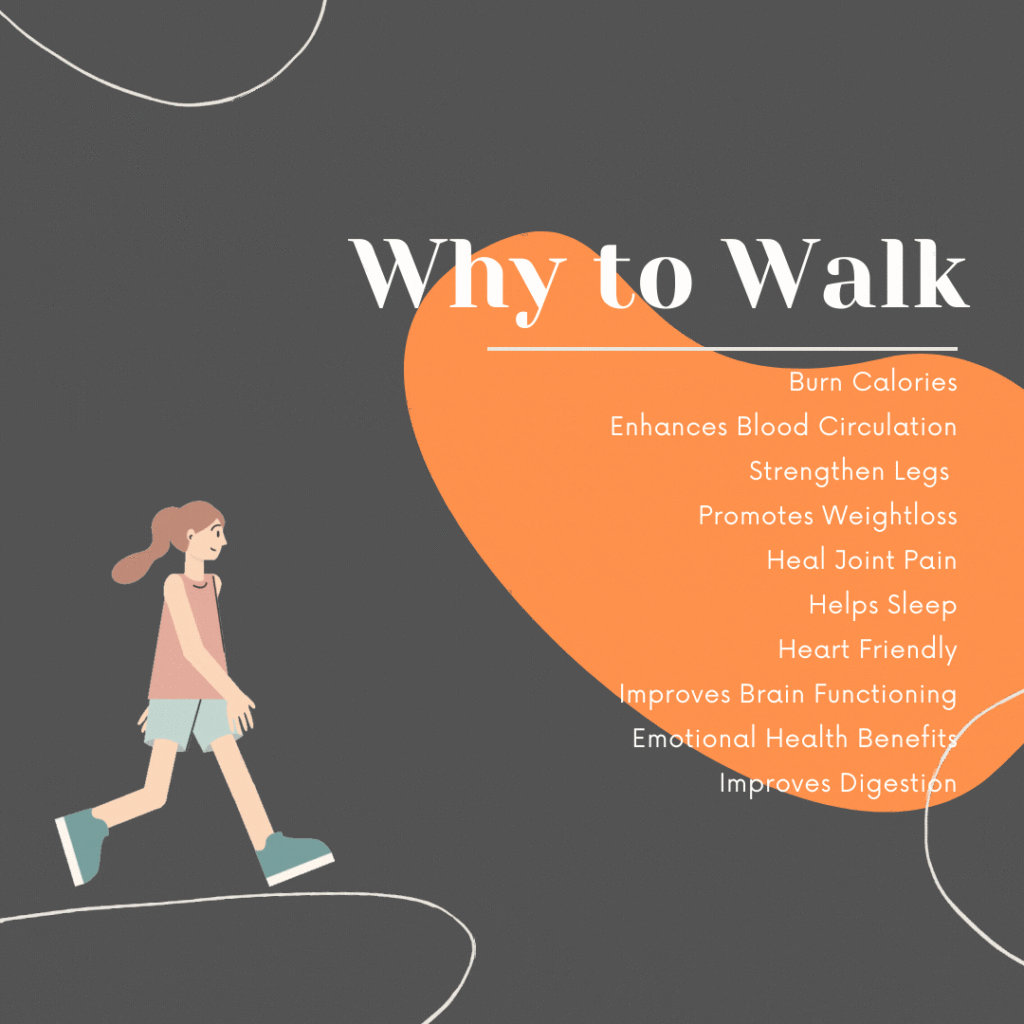 VI) Provides Sound Sleep
Healthy sleep is advantageous for a fresh start and a happy mood. Moreover, a night of restorative sleep may impact your health to a great extent.
Studies show that people who exercise or walk before getting to bed endured a sound sleep.
However, it doesn't deny the fact to get a morning walk. Both morning and night walks have different effects and are crucial to health.
Walk before sleep stimulates the secretion of melatonin. It relaxes your muscles that promote mental relief and leads to better sleep.
VII) Heart friendly activity
Walking is a healthy activity for heart patients as it helps clear the blood vessels that reduce the load on the heart for blood circulation.
Further, heart patients should schedule a walk for at least 10 minutes a day and gradually increase the time interval as they become used to it.
A regular walk works as a boon for heart patients. It promotes blood circulation that helps recover the organs faster.
VIII) Improves Brain functioning
Like other cardio exercises or workouts, walking develops concentration and focus.
Its regular practice prevents the shrinking of the hippocampus with age.
Also, studies prove that walking every day stimulates critical protein in the brain that helps cognitive functioning.
IX) Emotional health benefits
A good walk can be a favorable option to boost your emotional and mental health.
The nerve system connects the brain to every part of your body. Therefore, the pain in the body creates mental stress and vice versa.
As exercise and walking relax muscles, which release pleasant stimulations in the brain that improves your mood.
X) Aids Digestion
Walking every day aids digestion. Studies show that walking after a meal increases the rate of digestion.
It helps move the food from the stomach to the intestine quicker.
Additionally, a regular walk after a meal influences blood pressure and blood sugar levels. The walk after digestion helps use the glucose by the muscles.
Long-term results show that a 10-minute walk after a meal is enough to maintain healthy blood sugar and blood pressure levels. 
When is walking uneffective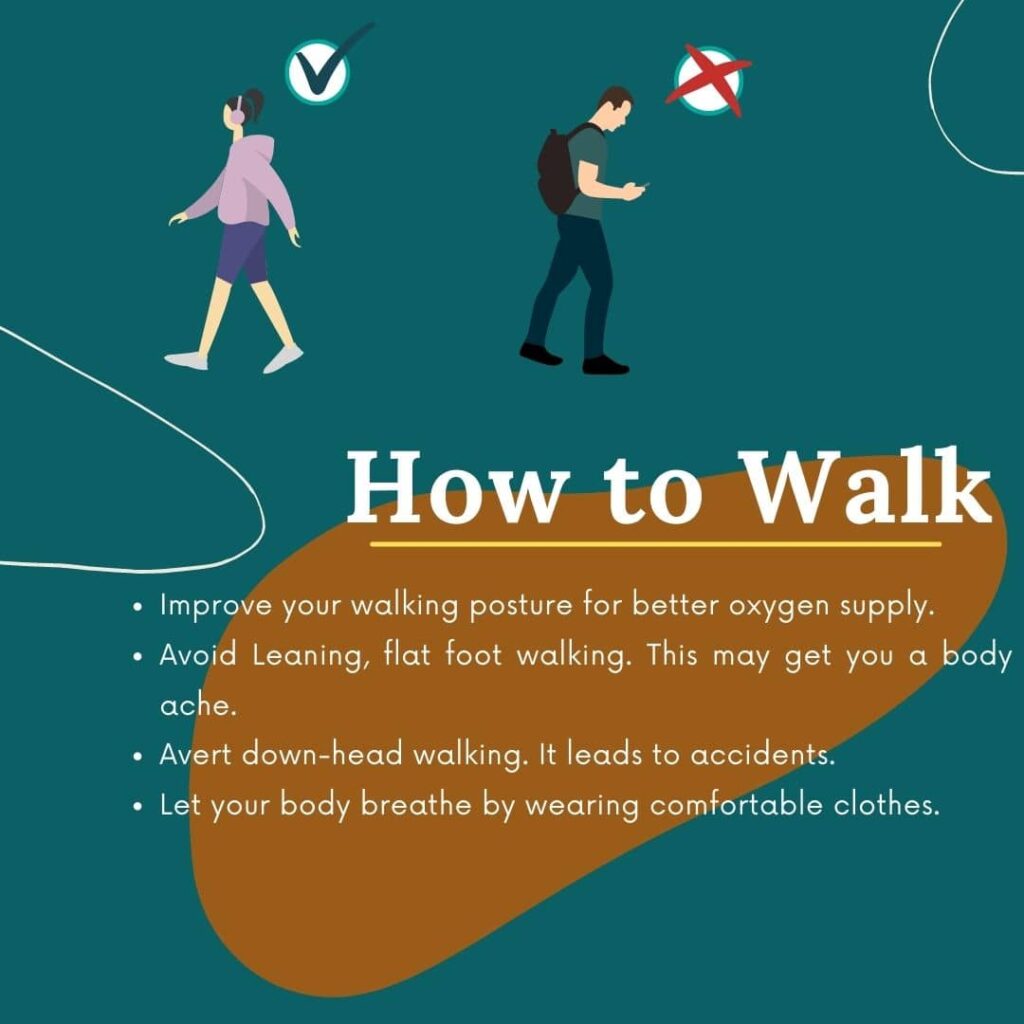 Walking with bad postures reduces its health effects as it may cause unnecessary stress over some parts of the body. Moreover, it may restrain proper blood circulation.
Therefore, ensure that you walk in a good posture to get all the health benefits of walking.
However, the inclination is required while walking on hills or slopes.
Prevent walking flat-footed. It is an unhealthy way to walk, which may feel like slapping your feet on the floor. 
Here, the feet' balls do not go rolling in every step. Flat-foot walking gets excess pressure on your foot points that causes shin pain and may impact organs.
Inappropriate arm motions while walking, like moving arms too fast or too slow than body movement, affects your walking style.
This way may increase unnecessary pressure that leads to forward inclination. Moreover, it may also promote flat-footed steps and develop pain in the shins.
Walking with a down head is a dangerous and unhealthy way to walk. A distracted walk can be deadly as it may lead to accidents.
Moreover, good posture while walking helps you breathe comfortably. It supports proper oxygen circulation.
Wearing inappropriate clothes while walking may lead to body aches than healing them. 
Do not wear tight shoes or clothes. It blocks blood circulation to the body parts.
Wear clothes that involve proper airflow. Also, use season-friendly clothes as inept airflow may cause skin problems.
Conclusion
Walking is a great way to stay fit and active for any age people. Still, consult your doctor before starting this healthy activity to prevent any complications.
A regular walk is beneficial to your joints and muscles. Remember to walk safely, or you can even try walking at home.
Moreover, try different types of walk to increase your difficulty levels while walking. This way promotes overall body workout and also helps recover well.
However, you must avoid walking in case of a sprain, injury, or obesity. It may get worst in the absence of care and precautions.