How early dinner benefits contribute to our health and fitness
Intermittent fasting comprises different weight loss methods and healthy eating habits. It also gave rise to a term called early dinner.
After the popularity of intermittent fasting, it is common to have questions, like should we eat our dinner early in the day or it is okay to have some late-night snacks.
Weight gain and weight loss are indeed a game of calorie intake. But the time when you eat plays a vital role in digestion and burning calories.
Well, let us see whether early dinner is beneficial to our health.
Health Benefits Of Early Dinner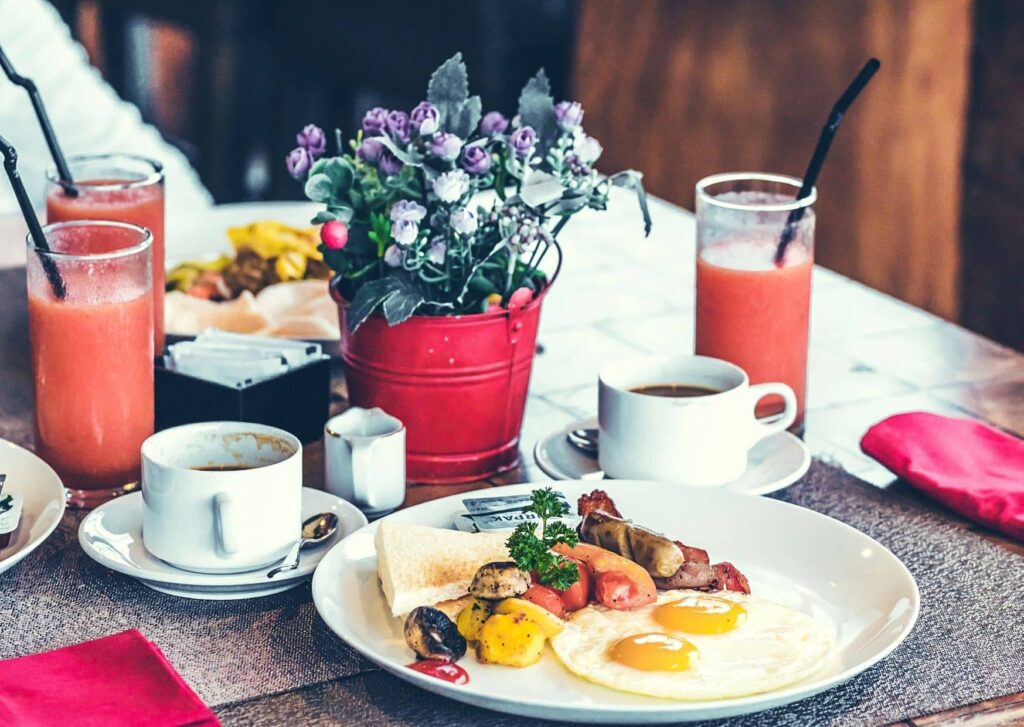 1) Sound sleep
Dinner before 3 hours of bedtime is beneficial for sound sleep.
The quality of sleep decides the amount of rest granted to our system. It is crucial to let our system relax rather than work to digest late-night food.
Late-night snacks make our muscles work for the night to digest the food when they must be resting.
As the body works continuously to drive energy for us, it causes restlessness or even sleeplessness.
Such sleep during the night would not be enough and isn't refreshing.
Thus promote early dinner habits to improve your sound sleep and relaxation.
2) Aids Digestion
Sleeping just after dinner does not promote healthy digestion and indulges several health risks, including cancer (prostate or breast).
The reduced time between dinner and sleeping increases the risk of indigestion. Further, indigestion can lead to acid reflux, gas, bloating, or abdominal pain.
Early eating helps improve your digestion. Generally, our metabolism is strong at noon and decreases with the passing day.
Therefore, early dinner habit elevates metabolism and aids digestion.
3) Heart Friendly
We do not require energy while sleeping. Therefore, late-night eating causes calories to convert into triglycerides. These fatty acids are harmful to heart health and may cause bloating and heartburn.
Similarly, we should also reduce the number of diet portions at dinner to ensure quick digestion.
Hence, early dinner benefits the heart, reducing the risk of heart inflammation and heart strokes.
4) Promotes Weightloss
Our digestion function is quite active during the daytime rather than the night.
Accordingly, late-night calories convert into fats, responsible for unhealthy weight gain and other health issues.
Furthermore, at least 3 hours of gap between dinner and sleep is necessary to move the food from stomach to intestine.
It reduces the risk of problems like acidity and inflammation.
The early dinner reduces calorie consumption and even helps you utilize it, promoting weight loss.
5) Control Blood Sugar Levels
Late-night dinners tend to increase blood sugar levels due to inactivity and indigestion. Thus, we should maintain at least 3 hours of the time interval between night snack and sleep.
Still, people should not go to bed empty stomach, especially diabetes patients.
Therefore, opt for healthy snack options like milk( basically hot milk), a handful of nuts, cucumber, carrot pieces, boiled eggs, or fiber-rich food.
Such healthy food controls your blood sugar level plus compensates for the medication.
What is the ideal time to eat dinner?
Our body is affected by the movement of the sun and moon. Therefore, dinner time is as significant as what we eat in a day.
It is not like you should omit to eat after sunset. Although, it is remedial if you can do so.
Yet, getting to bed on an empty stomach also affects your sleep adversely. Thus, choose any time you find comfortable between 4-7 pm for a healthy and light dinner.
There should be at least 3 hours gap between dinner and sleep.
Conclusion
Early dinner has numerous health benefits to accomplish. It improves digestion, maintains healthy blood sugar, blood pressure levels, promotes weight loss, reduces bloating and obesity.
Even if you eat your dinner at around 7-8 pm, ensure that the diet is light and easy to digest. Or you can also practice a moderate walking session of 5-10 minutes after dinner for better health.
Remember not to walk too fast while walking after a meal.