Drinking lime water benefits that you should give a try
Drinking lime water benefits our digestive system, develops immunity, aids weight loss, and improves skin health. Generally, lime and lemon are not the same.
However, both fall into the same family. So, before diving in about lime and lemon. Let us review what lime is.
What is lime?
Limes are citrus fruit, like lemon. But, it is less sour than lemon. They are used to add some flavor to foods. 
A tropical climate is an appropriate region for the fruit. Despite this, limes are now popularly grown in subtropical areas, like India, Mexico, and Egypt. 
Although these vitamin C fruits are quite helpful for remedial purposes. Besides, Supervision is required to manage their long-lasting health benefits.   
A lime can fulfill 32% of an individual's daily need for vitamin C. However, its juice can provide 22% of the daily requirements.
Also, a round of all seasonal fruits helps to build up health. It reduces the risk of several health problems, which are outcomes of an unhealthy routine.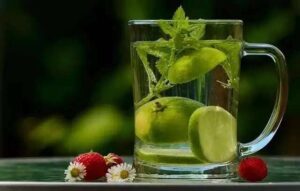 Several studies show that consumption of such plant-based food improves our healthy skin, hair, energy. And lime has a significant effect on weight.
Moreover, it protects from the health risk of obesity, diabetes, and cardiac problems. Furthermore, they provide additional taste to the food that makes it super delicious.
Since there is an appreciable amount of antioxidants that can fight harmful free radicals, it can decrease the aging process and improves your body functions in return.
The presence of vitamin C demonstrates antibacterial and antifungal properties.
Lime vs Lemon
Both (lemon and lime) are salient sources of vitamin C and are much similar rather than just citrus fruits.
Also, they have some distinctions that make them different from each other. Lemon and lime are two different kinds of fruits though they are closely related.
Lemons are mainly grown in moderate climates, whereas limes are better in tropical regions with some subtropical ones. 
Both of them are found sour and acidic with several advantages like cooking and flavoring, food preservation, etc. Furthermore, they serve as good sanitizers.
Used in household cleanings due to their antibacterial and acidic properties that 
Furthermore, due to their enduring fragrance, they are also used in cosmetics. And the healing traits make it favorable for medicinal purposes.
Lime and lemon nutrition:
| | | |
| --- | --- | --- |
| | LIME | LEMON |
| | | |
| CARBS |   11 gm | 9 gm |
| CALORIES | 30 cal | 29 cal |
| POTASSIUM | 3% RDI | 4% RDI |
| VITAMIN C | 48% RDI | 88% RDI |
| VITAMIN B6 | 2% RDI | 4% RDI |
| VITAMIN B9 | 2% RDI | 3% RDI |